Here's how the super-wealthy are allocating their money...
Plus: AltaFox goes activist
TIGER 21 is a membership club with a pretty high bar to join. To be a member you need the following:
$10 million or more in investible assets

$30k to pay the annual membership fee
Easy peasy right?
TIGER 21 reportedly has over 750 members. $30,000 annual fee x 750 members = $22,500,000. That's a pretty nice recurring revenue number for essentially running a forum/networking site for the uber wealthy. Gets my wheels turning on related business ideas but that is a topic for another day.
I'm not a member of Tiger 21 (I wish) but one interesting thing they do is publish their members' asset allocations. It's fun for a money nerd like me to look at the $10 mil plus crowd and see how they allocate.
Here is the asset allocation report from Q1 of 2020: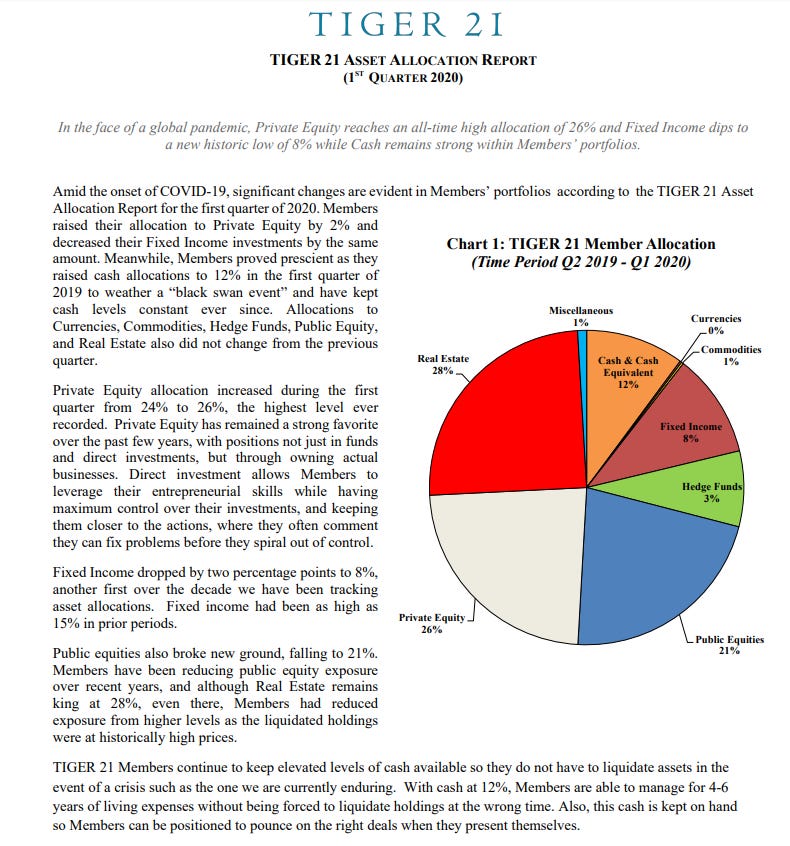 A couple takeaways:
Diversity: In my view, once you've won the game the goal is largely not to blow yourself up. To that end, I think it makes sense to see a relatively large cash allocation (12%) and a pretty even split between public equities, real estate, and private equity. Having cash plus a lot of diversity helps insulate against wealth-killing tail risks.

Sidenote: I'd love to see this chart for 20 and 30 something's as I suspect crypto would register much higher.

Fixed Income: In investing you'll often hear of the 60/40 portfolio. The thinking is 60% equities provides enough allocation for growth while 40% in fixed income provides plenty of buffer if/when things go south. Another (more dated) rule of thumb you'll sometimes hear is 'hold you age in bonds'. If you're 40, you'll have a 40% allocation to bonds. Interesting to see such the super wealthy have such a low allocation to fixed income. I'm in a similar spot with a target allocation of 10%. Seems consensus is moving this direction given expectations around monetary policy and our low interest rate environment.
Anything you find surprising or interesting about how the super wealthy allocate? Reply and let me know.
---
AltaFox takes on Collector's Universe
I came across Connor Haley and his hedge fund (AltaFox Capital) awhile back and was really impressed. He's young (not even 30), smart (magna cum laude from Harvard), has an interesting thesis (under-followed micro-caps provide an alpha rich environment), and isn't afraid to make bold moves (i.e. going activist).
Recently, AltaFox took an activist position in a company called Collector's Universe (CLCT). CLCT is a sports card grading company. It turns out sports cards have boomed in recent years but CLCT has been pretty complacent in both innovation and basic public company blocking and tackling.
From Connor's write up:
The current Board has not shown a willingness to engage with investors. CLCT has no sell side coverage, no investor presentations, no dedicated IR contact, does not give formal guidance or have a clear longterm plan, and does not even attend major small-cap investor conferences as close as 30 minutes from its headquarters. Alta Fox plans to rectify CLCT's history of shareholder ambivalence and lack of transparency.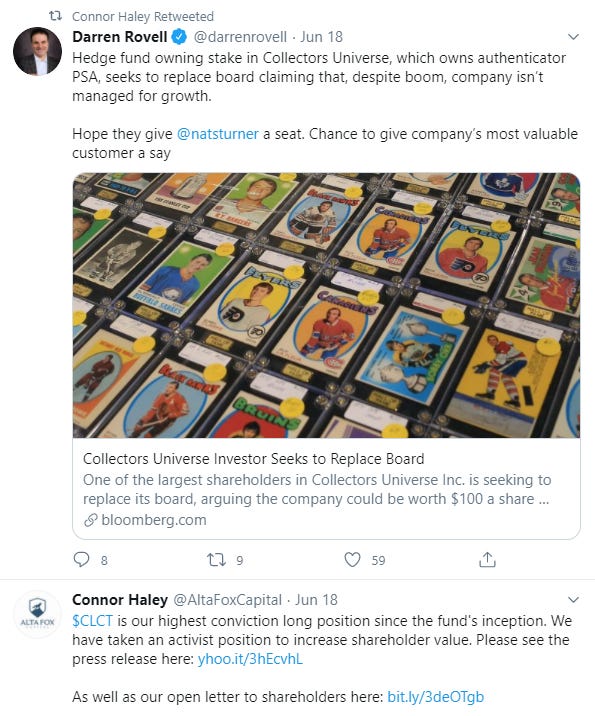 This is interesting to me on two levels:
First, imagine being in your 20's, raising millions of dollars of LP capital, and taking early on in the life of the fund taking an activist position. That's not something you see every day.

Second, it will be fun to see if Connor can pull it off. If so, I suspect he'll go from under-the-radar fund manager to rising star.
---
Thanks for reading the curious investor. If someone sent this your way, or you haven't done so yet, sign up below so you never miss an update. Thanks again. ✌
-Paul
👋 Say hi on Twitter
🎧 In my headphones now: "The One Who Stays" | Trent Dabbs
📧 Help me grow by clicking the green button below and sharing. Thanks 🙏
---
🧍 Who are you again? Hey my name is Paul. "The Curious Investor" is a newsletter where I write about investing, personal finance, markets, and financial independence. In addition to investing, I spend a lot of time in the ecom world. I started and sold an ecom business and now help brands grow big on Amazon. Previously I was a CPA and spent a decade in corporate finance. Learn more about how I invest here. Nothing herein should be considered investment advice.