Market Recap + $20k/mo on YouTube + Scott Galloway Portfolio Changes
Plus: Three stocks on my watch list
Hey everybody. Here's what I'm writing about this week:
📉 Market recap

💻 Ownership & $20k in a month on YouTube

👨‍💻 Scott Galloway talks re-allocating his portfolio

📈 Three stocks on my watchlist
---
Last Week In Markets
📉 Last week: The S&P dropped 5% in it's worst week since March. And volatility is back. On Thursday alone the DJIA was down ~7%.
Here are the most common reasons I heard mentioned on why the market had a rough week:
Fears of a COVID-19 second wave

Tepid comments from the Fed

Retail investors over-heating the market

A normal pullback
My sense that there is more downside than upside in this market at the moment. That said, I'm not a market timer so I'm just rolling along with my plan. It helps to recall that old Peter Lynch sentiment…
Time in the market is more important than timing the market.
---
Ownership & Freedom
I came across Erika Kullberg in a Facebook group this week. She's a lawyer who just got traction on YouTube.
The results are pretty wild: she's made $20k in past 30 days from her videos.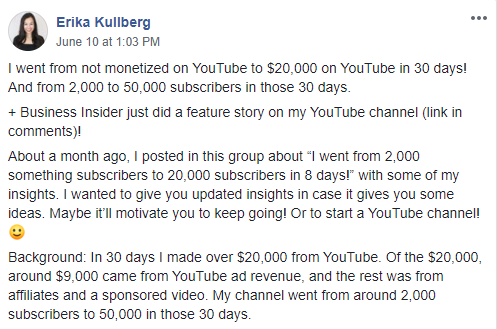 I'm supposed to connect with Erika in the next week or two so if I learn anything interesting I'll share in a future newsletter.
Trading time for money & trading money for stuff
Most of my 20's and early 30's were spent in the following cycle:
Trade time for money

Trade money for stuff

Rinse/repeat
Working for someone else's bottom line and being a good American consumer is fine and good. But it doesn't tend to build a lot of wealth. At some point you need to own something. Ownership can come in different shapes and forms:
What can you own?
💼 Your own business

📈 Someone else's business (public or private)

🏢 Real Estate

🙂 An audience

🕒 Your time
2020
One of the cool things about living in 2020 is that you don't need huge capital to start the journey to owning something. Erika did it with a camera, internet connection, and a few video editors she hired from the Philippines. My Amazon business was started with $5k.
We face a lot of challenges as a society but one positive I see for our era is that ownership is more in reach than ever before. You can start a media company with nothing more than an internet connection. You can start an ecom business with a few thousand dollars.
In addition to lower capital barriers, change itself is an opportunity. Tech moves so fast and disrupts things; often these disruptions provide opportunities for small fish (e.g. Shopify, Amazon FBA, TikTok, potentially Snap minis, etc).
With some mix of luck and hard work these capital light businesses can generate real money. And that real money can get pushed into assets like real estate or stocks. Accumulate enough of those assets and you can have what we all want: freedom.
So my advice to my younger self: own something!
---
Scott Galloway talks re-allocating his portfolio
Scott Galloway is an interesting guy. He's started and sold a few businesses, is a professor at NYU Stern School of Business, and does a lot of podcasting/writing about tech.
Prof G said something on his podcast this week that caught my attention: he's considering re-allocating his portfolio from big tech to a new class of disrupters.
Why is Galloway moving out of big tech? The law of big numbers. In essence, how can Amazon (at $1.3 trillion in market cap) double or triple? While still good investments, growth becomes challenging when you're so big.

Where is Galloway re-allocating to? He's bullish on a "disrupter class" playing in traditional industries that have been weakened by COVID. In addition, these disrupter class companies have the following traits:

Access to cheap capital

Clean sheet design

An embrace of technology

Younger employee and consumer base

Galloway mentioned three names he likes:

How to invest? None of these are public. You can buy on secondary market or wait for IPO.
---
Stocks on my watch list
Here are three companies I'm watching. If these get a bit cheaper I'll likely add them to my fun money portfolio:
SNAP
I've been stuck in the middle on SNAP for awhile and as a result have watched it more than double.
The good:
As we've seen time and time again, attention can be monetized. 229 million daily active users is pretty remarkable… that's a whole lot of attention. Even with the rise of TikTok, it still feels like SNAP is the preeminent platform for Gen Z

Snap minis are receiving a lot of buzz and have a chance to be a game changer for the platform
The bad:
Facebook will attempt copy anything that catches at SNAP potentially leaving them with no moat or durable advantage

TikTok steals users' attention. Thus far SNAP's growth has remained and engagement has not been hurt but feels like an underlying risk. It was two years ago Kylie tweeted the below (which thus far has not come true) and it took a billion off the market cap of SNAP.

RDFN
Huge TAM in an industry ripe for disruption. COVID accelerating future and RE will be no exception. Great user experience.
TCEHY
Gaming + social + cloud in a huge market. Big tailwinds in a big market.
---
Thanks for reading the curious investor. If someone sent this your way, or you haven't done so yet, sign up below so you never miss an update. I love hearing for readers so hit reply and say hello if you haven't done so before. Thanks again. ✌
-Paul
👋 Say hi on Twitter
🎧 In my headphones now: "Hero" | Michael Kiwanuka
📧 Help me grow by clicking the green button below and sharing. Thanks 🙏
---
🧍 Who are you again? Hey my name is Paul. "The Curious Investor" is a newsletter where I write about investing, personal finance, markets, and financial independence. In addition to investing, I spend a lot of time in the ecom world. I started and sold an ecom business and now help brands grow big on Amazon. Previously I was a CPA and spent a decade in corporate finance. Learn more about how I invest here. Nothing herein should be considered investment advice.