Q&A: Adaptive Realty's Moses Kagan on Real Estate Investing, The Simple Math He Uses to Evaluate Deals, & Problems in RE that Need Solving
Hustling from $0 AUM and a blog to $110 million in AUM
Hey everybody - Paul here. I'm excited to share my Q&A with the fantastic Moses Kagan. Moses is the co-founder and partner of Adaptive Realty out of Los Angeles and he writes at KagansBlog.
I came across Moses on Chris Powers' "The Fort" podcast (episode I | episode II) and loved everything I heard. You know how sometimes you hear someone on a podcast and you just vibe with them? That was me listening to Moses.
What Moses does is really interesting. We get into it below but he runs a unique play when it comes to real estate. How Moses does it is equally interesting. Many of his investors found Moses from his blog and Twitter. I suspect many of them see what I see: a thoughtful, smart, and straightforward guy.
If you're at all interested in real estate I think you'll learn something from our conversation. We talk about the reasons to invest in real estate, the power of Twitter, and real estate related business ideas for enterprising entrepreneurs.
Quick Note: this newsletter is about investing but it feels wrong not acknowledging the events occurring around the country. I live in Minneapolis not all that far from 38th and Chicago where George Floyd lost his life. We looked at sending our son to the daycare a few blocks away. To see a human being treated the way George Floyd was treated right here where my family calls home is shocking and devastating. It's been a sad and hard week. RIP George.
---
The Curious Investor is a newsletter where I write about investing, markets, and personal finance. If you want to stay in the loop, please subscribe below.
---
7 Questions With Moses Kagan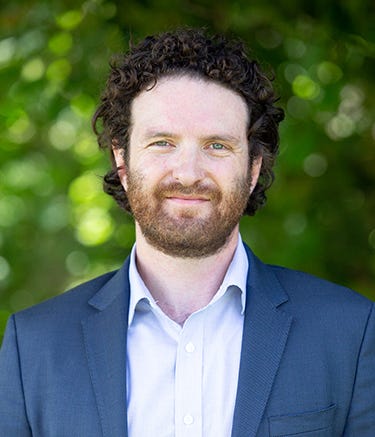 Paul: My sense is most people think investing in real estate is an intelligent thing to do but if asked couldn't really articulate why. What's appealing to you about real estate investing? Why should investors think about allocating to real estate? 

Moses: I don't think all, or even most, investors should allocate to real estate. For the vast majority of people, particularly younger people, I think Warren Buffett's advice to be 90% low-fee S&P 500 / 10% cash is the right call.
However, for people who have a lot of assets, real estate does offer some benefits alongside a public equities portfolio, namely: Cash generation; ability to utilize cheap long-term leverage; extreme tax advantages; returns theoretically benefit from illiquidity premium (though see below).
Just don't invest in real estate, of any kind, if you might need the money back quickly.
Your real estate private equity strategy is wonderfully unique as compared to most other real estate private equity firms. Give us the highlights of your strategy/philosophy and why it's a fit for you and your investors.  
In the simplest possible terms:
Standard RE PE strategy is to buy with a ton of leverage, fix quickly, and sell

This maximizes pre-tax IRR (basically, return to your equity over time), which is great if you're a non-tax payer like a pension fund or endowment

For a tax-payer (like a high net worth or family office) this is sub-optimal, because:

High leverage introduces a lot of risk of being forced to sell at inopportune times

Going in and out of deals imposes large transaction costs

Capital gains taxes eat a lot of the profits; and

You miss out on the chief benefit of well-located, income generating real estate, which is steady, long-term, tax-free compounding

Many wealthy families understand the above, and therefore tend to buy good stuff using reasonable debt, operate it well, and hold it forever, refinancing to pull capital out as appropriate

Our strategy is to replicate this, in Los Angeles multifamily, for our LPs
Real estate investing has it's own language and math. The result is that it can feel intimidating to outsiders. When I started RE investing I was Googling every third word the sponsor was saying. And then I was totally lost in big fancy models in the data room. Even when I looked at my own deals around town I didn't have a good framework for how to analyse them. All that made me gun shy early on.
You said something on a podcast recently about the inputs you use and the math you do. It was beautifully simple. Can you boil down the numbers that really matter and explain how you think through if a deal makes sense economically? 
The math almost couldn't be simpler:
(forecast annual rents - forecast annual expenses) / (cost to buy + cost to rehab) = unlevered yield.
If the unlevered yield is 200-250 basis points over the interest rate at which you think you will be able to borrow on the asset, buy. If not, don't buy.
The reasoning is a little more complicated:
If you use the above equation (which ignores debt), you can tell if you're actually adding value: If the unlevered yield in your project doesn't materially exceed the cap rate at which you can buy stuff, why are you doing the project?

For apartment buildings in LA, loans mostly aren't interest only - they amortize over 30 years. So, the cashflow cost of borrowing at, say, 4% doesn't feel like 4%... it feels more like 5.7% due to the amortization. So, if you have a 200-250bps premium, the more you borrow, the better the levered yield will be on whatever capital remains in the deal

If, as is the case at this exact moment, the debt market is messed-up and you can't get the loans you usually get, it's not so bad. You sit there and collect your premium unlevered yield until the debt market heals.
I know a lot of people with the means and desire to invest in real estate but they aren't sure how to dive in.
Hypothetical situation: I've got $50k to allocate to real estate but not sure where to put it. I could buy a buy a duplex to rent out, put money into a crowdfunding site, drop it in a REIT, or become a LP with a private equity group. How would you help me get clarity on where to begin?
Again, I don't think most people with $50k to invest should really be looking at private real estate at all. There's just too much chance they will need the money for some emergency. They should be in public equities.
If you've got more like a spare $100k+, then things get more interesting. I don't think it's crazy to just go buy your own deal, particularly if it's nearby and you can really keep an eye on it. That's what my parents did, for example (they had probably 10-12 units at various points). The real cost to this strategy is your time... if you have a particularly highly-paid profession, I think it's kind of a waste to spend your hours tending to a little fourplex or whatever.
The reason we have to do such complicated stuff to buildings is that our hurdle (implicitly) is: Can we deliver to our LPs, net of fees and promote, returns in excess of what they could do by buying their own buildings in LA? If we don't, then we cease to exist.
You started with $0 AUM. Today you have $110 million under management. That's a heavy lift and a downright beast move to pull off. What were the key ingredients to hitting that level of success? 
High pain tolerance. (Wish I was joking.)
It was a very long slog, involving: being broke, a ton of sleepless nights, lots of hustling, adding far more value to other people than we were able to extract for ourselves, etc.
I was raising the capital all along and I am not what you would call a good, conventional fund-raiser. I don't play golf and my parents aren't super-rich. So I started a blog and wrote every day and, eventually, luckily, very smart investors started to find us.
We did the same small deals we're doing now: $2MM here, $5MM there. I remember thinking, when we had like $20MM in AUM, that that was a large number and imagining what it would be like to have $100MM. Then, one day, we woke up, and we were past that.
I learn more from Twitter and podcasts than anywhere else. You're an essential follow and have developed a very strong Twitter game. Any general thoughts on Twitter? How do you use and get value from the platform? Has it helped attract LPs aligned with your philosophy? And how did you grow you following?
Thanks!
Am so angry at myself for not recognizing the value of Twitter earlier. I think it's very well suited to someone like me, because I love to read & write.
Have benefited in two key ways:
1. Obviously, we have attracted a lot of interest from capital providers. We're already putting out a significant amount of money from LPs we met there, and I expect we'll add materially to it over time.
2. Less obviously, but maybe more importantly, is that Twitter has exposed me to some incredible thinkers about investing, in general, and real estate, in particular. Without meaning to leave anyone out, @keithwasserman, @pinkpoloshorts, @mattlasky, and @chrispowers have all expanded my concept of what is possible, where to find opportunity, how to run a firm, etc.
What problems in the real estate space exist today that need solving? We have a lot of entrepreneurial readers always on the lookout for new business ideas. Understanding problems to solve just might get a few folks pumped to go build something in the space. 
In no particular order:
Marketing of available units / spaces is broken. There's no great way to centrally post ads and track in-coming leads & conversions. There are some companies working on this.

The commercial loan market is a huge opportunity. It used to be that you had a relationship with your bankers. This is less true now; the market is to a large extent intermediated by loan brokers, many of whom do a good job. Someone is eventually going to create an online marketplace for these loans and make an absolute fortune - the market is many, many, many hundreds of billions of $$ and the take-rate for loan brokers is like 0.5-1%.

Market for subcontractors is broken. If you scratch the surface with almost any GC, you will see that they work with the same few subs over and over. There are good things about this (trust is really important), but there is no way that what the GCs are doing is optimal... there are definitely subs out there who would do as good a job for less money or a better job for the same money... the GCs just have no way of figuring out who is good.
What is best way for people to get in touch or follow along with you? 
Twitter is great: @moseskagan 
Am pretty good at responding to emails, too: moses@adaptiverealty.com
🙏 Thanks to Moses for participating.
---
"the curious investor" is a newsletter by paul andersen. topics include investing, markets, and personal finance.
paul is an ex-cpa who was escaped the corporate grind by starting and selling an ecom business. check out the first issue for a breakdown of how paul invests and his current asset allocation.
👋 say hi on twitter here.